Fun adventures with friendly aliens for your children. Alien stories for kids!
The Alien Characters are on a friendly mission, and they're meeting all sorts of different friendly aliens around the galaxy. Each downloadable pdf ebook features a fun story about a new alien, so you can download them to your ebook reader for your children to enjoy.
If you or your children are interested in space travel, time travel, alien worlds, ufos, stars, planets, galaxies, astronomy, science, chemistry, physics, technology, science fiction, fantasy, outer space and metaphysics then you'll probably find something in this series for you.
If you like Mr Men, Thomas the Tank Engine, Ben 10, Star Wars or Doctor Who you'll probably find you'll like the Alien Characters series too.
Join the fun with a new alien ebook every 4 weeks for just $US0.99 each! Download and read the adventures of the Alien Characters on your ebook reader.
The 2015 Illustrated Edition of Alien Amanda.
Download as a PDF today!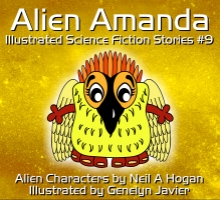 09. Alien Amanda
Instant PDF Download: US$0.99
Click here for more Alien Characters ebooks and to pre-order future releases
Click on 'The Aliens' to learn more about available and future Alien Characters stories








Come back soon to read more! We hope you enjoy the Alien Characters series.
Receive our monthly email newsletter for news, previews of upcoming titles and more.
Published by Electronic Desktop Solutions Pty Ltd ACN: 065 417 665
Other Recommended Sites: Galactic Missions | TheYahyel | Best Science Fiction Stories | Alien Characters Facebook Page
Tags: ufo stories, extraterrestrials, ets, ebes, outer space stories online books ebooks story metaphysical, fantasy, science fiction, visionary, channelled, channeled
UFO Witness Declaration
Privacy Policy | Terms of Service
Alien Bob | Alien Hamish | Alien Robert | Alien Christine | Alien Tim | Alien Vince | Alien Carla | Alien Rex | Alien Amanda | Alien Nathanial | Alien Anneke | Alien James | Alien Sophie | Alien Holly